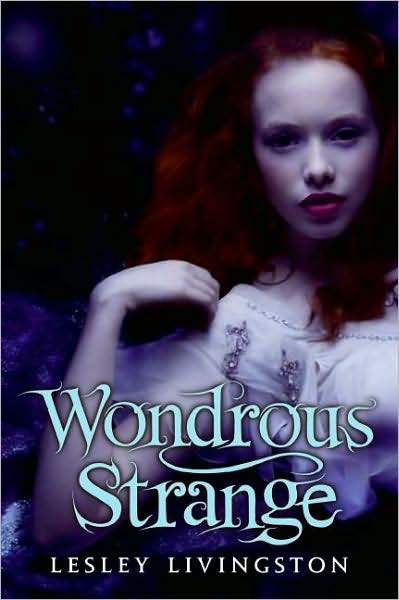 Title:
Wondrous Strange
Author:
Lesley Livingston
Age Range:
12+
Publication Date:
December 2008
Pages:
336
Genre:
Paranormal, Romance
Rating:
9/10
Synopis
from goodreads:
17 year-old Kelly Winslow doesn't believe in Faeries. Not unless they're the kind that you find in a theatre, spouting Shakespeare—the kind that Kelley so desperately wishes she could be: onstage, under lights, with a pair of sparkly wings strapped to her shoulders. But as the understudy in a two-bit, hopelessly off-off-Broadway production of A Midsummer Night's Dream, wishing is probably the closest she's going to get to becoming a Faerie Queen. At least, that's what shethinks... In this fun, urban fantasy, Kelly's off-stage life suddenly becomes as complicated as one of Shakespeare's plot twists when a nighttime trip to Central Park holds more than meets the mortal eye.
Review:
I cannot believe I put off reading this book for this long. Wondrous Strange is a enchanting book giving a new, darker, dynamic, and completly action-packed view on the faerie vs. human genre. I could not and did not put this book down if not just to sleep (at about 3 am I might add). This book definately was kind to keep you up all night long, but trust me, you won't miss the sleep!!!
Kelley, an aspiring actress, has no idea her city and her central park which she spends most of her time rehersing her
role as Titania, is a gate between her human world and the OtherWorld, where faeries roam free. Until she meets Sonny, and her world turns backwards and inside out. Kelley and Sonny are so cute together. Though their romance is a bit quick throughout the book, it is more than adorable and completely believable. And Kelly was so much fun. She has such a sweet demeanor, but don't be fooled, right below that is a mace-carrying fiesty kick ass chick!!! And we can't forget Sunny. The warrior prince like guy. So heroic, so self sacrificing, so swoon worthy...
Overally I loved this book so much. It was just so exciting. The beginning introduces the characters, but when you get towards the middle the great plot really kicks in. It is so completely orignial and so interesting, I couldn't stop thinking about it or trying to guess what was going to happen next. Of course I was wrong on all accords. There is a lot going on and yet the plot just builds into something bigger and better, not more confusing. I doubt you will be able to keep still while reading.
Why oh why did it have to end. But it did, and with a bang. Lesley Linvingston packs as much action as she possibly could in those last few unbelievable pages. I loved it and the minute I get my hands on 12 bucks Im geting the sequal!!!
I Recommend:
I recommend this book to all lovers of paranormal, romance, faeries, and an incredible story!!!
Characters:
9/10
Plot:
10/10
Originality:
10/10
Entertainment:
10/10
Ending:
10/10
Writing Style:
9/10
Cover:
8/10
Total:
9/10