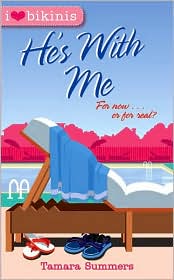 Title:
He's With Me
Author:
Tamara Summers
Reading Level:
13+
Publication Date:
May 2007
Pages:
224
Series:
Island Summer (I Heart Bikinis Series), What's Hot (I Heart Bikinis #3)
Rating:
8.5/10
Synopsis (from BN.com):
Lexie has always had a crush on Jake, her brother Colin's best friend. But she knows Jake thinks of her like a sister, and has never made a move. But when beautiful alpha girl Bree McKennis sets her sights on Jake, he has to come up with a plan to turn her down...without incurring the wrath of the most popular girl in school. That's when Colin comes up with the plan: Lexie can pretend to be Jake's girlfriend. But Lexie has never had a real boyfriend, let alone a pretend one! Can she manage to convince Jake that they're meant to be...and avoid getting killed by Bree McKennis.
Review:
He's With Me by. Tamara Summers is an incredibly cute light read that will keep you laughing and indentifying with the main character throughout the book.
This book was one of the cutest books I have ever read. All Lexie wants is for her brother's best friend Jake to see her for more than his best friends sister. And when he asks her to pretend to be his girlfriend in order to rid the advances of one of the school's evil popular girls, she thinks this is her chance. I loved Lexie throughout the book. She is an easy character to sympathize with. Even if you are that usually confident girl, there is always that one guy that can make you for get yourself for a while, and Lexie is the perfect example of this. Jake was the perfect leading male. I found myself shouting at him for being so oblivious, but then I had to remember, he is a guy.
The book just got better and better as I read. I kept finding yourself wondering if they will actually end up together in the end. Or will her new semi- kind of love interest take Jake's place in Lexie's heart. There are so many bumps going along with this pretend relationship, that Lexie begins to lose hope that there could ever be a real relationship between the two. I laughed, I oowed, and mostly I awwed at how hilarious and cute this book was.
In the end this book was quick light read, with a cute ending to tie it all together. Everything about this book keeps you incapable of putting it down. I reccommend this book to all those who love a good romantic comedy, a hilarious book, and a light read!!!
Characters:
8/10
Plot:
10/10
Originality:
10/10
Entertainment:
10/10
Ending:
8/10
Writing Style:
8/10
Cover:
6/10
Total:
8.5/10