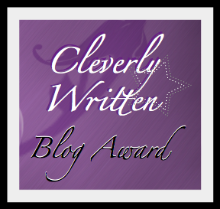 Thank You, Thank You you all are oh so very kind. I would like to thank
Cleverly Inked
for this award!!! Its great to know you think my blog is cleverly written. This is a new blog award and I am honored to be one of the first to recieve it and one of the first to pass it on. Here are the rules:
1)Accept award and display in/on your blog.
2)Be sure to link the person's blog who gave you this award on your blog.
3)Contact 2 other worthy blogger and award them with this Cleverly Written Blog Award.
4) If you don't choose to pass this along there is nothing wrong with that, just use it as you wish. This is supposed to be fun so ENJOY! Lets keep this blog award going.
I am giving this award to...
KatieDoll at Sophistikatied Reviews I think her reviews are very Cleverly Written and her Fan Art Friday is a meme I wait for every week.
Taschima Cullen at Bloody Bookaholic Taschima has one of my favorite blogs. Every post she writes is filled with flavor and are so opinionated (a trait I can personally relate to) which is what I think is so Cleverly Written about her blog.