In My Mailbox is a weekly meme hosted by The Story Siren and inspired by Alea at Pop Culture Junkie.


Title:
Betrayed (House of Night Book 2)
Publication Date:
October 2, 2007
Pages:
320
Synopsis:
Fledgling vampyre Zoey Redbird has managed to settle in at the House of Night. She's come to terms with the vast powers the vampyre goddess, Nyx, has given her, and is getting a handle on being the new Leader of the Dark Daughters. Best of all, Zoey finally feels like she belongs--like she really fits in. She actually has a boyfriend…or two. Then the unthinkable happens: Human teenagers are being killed, and all the evidence points to the House of Night. While danger stalks the humans from Zoey's old life, she begins to realize that the very powers that make her so unique might also threaten those she loves. Then, when she needs her new friends the most, death strikes the House of Night, and Zoey must find the courage to face a betrayal that could break her heart, her soul, and jeopardize the very fabric of her world.
I read the first book in this series a long while back, but I am still looking forward to reading this book, I need someting to sustain my growing vampire addiction.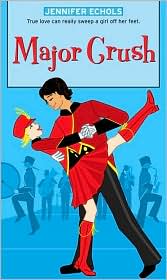 Publication Date:
August 1, 2006
Genre:
Contemporary Romance
Pages:
287
Synopsis:
Marching to the beat of a different drum...

Tired of the beauty-pagean circuit, Virginia Sauter tosses her tiara, pierces her nose, and auditions for the most unlikely of roles — drum major of the high school marching band.

Virginia wins, but is forced to share the title with Drew, whose family has held the position for generations. Sure, Drew is hot, but because of his superior attitude, he and Virginia are constantly arguing. That is, until they share more than just their half-time salute...

But as the drum major's heated competition turns to sizzling romance, explosive rumors threaten everything — including the band's success. Love seemed to be a sure hit, but Virginia and Drew may be marching straight into disaster.
I just love all of Simon and Schuster's romantic comedy's. And Jennifer Echol's books are always some of my favorites.
Contests

Won from Erica over at The Book Cellar's Doubles Contest.
Publication Date:
December 2003
Pages:
354
Synopsis:
Samantha Madison is just your average disenfranchised sophomore gal living in DC when, in an inadvertent moment sandwiched between cookie buying and CD-perusing, she puts a stop to an attempt on the life of the president. Before she can say "MTV2" she's appointed Teen Ambassador to the UN and has caught the eye of the very cute First Son.
Everything Meg Cabot writes is like gold so I expect nothing less than 14 karots for this book!!!
I think this was a very good week for me, what did you guys get in your mailboxes???